Covidence explains the two study designs
Research: there's a lot of it! So much, in fact, that keeping track gets harder by the day – even within a narrow specialism or subject area. 
Evidence synthesis is a type of secondary research that brings together information from a range of sources to inform decision making. It attempts to review the research in a rigorous and systematic way so that it can be used to support evidence-based practice.
Within evidence synthesis, different types of reviews have emerged to tackle the huge task of summarising the literature. It can be hard to keep track of these too! 
What's the deal with scoping reviews, for example? How do they differ from systematic reviews? Both are types of evidence synthesis and each has a specific use. Let's look at these two review types in turn to pick up on the key similarities and differences 🕵🏾‍♀️ . 
1. What is a systematic review?
Systematic reviews ask a specific question about the effectiveness of a treatment and answer it by summarising evidence that meets a set of pre-specified criteria. 
The process starts with a research question and a protocol or research plan💡. A review team searches for studies to answer the question using a highly sensitive search strategy. The retrieved studies are then screened for eligibility using the inclusion and exclusion criteria (this is done by at least two people working independently 👩🏻‍💻👨🏾‍💻). Next, the reviewers extract the relevant data and assess the quality of the included studies. Finally, the review team synthesises the extracted study data and presents the results. The process is shown in figure 2.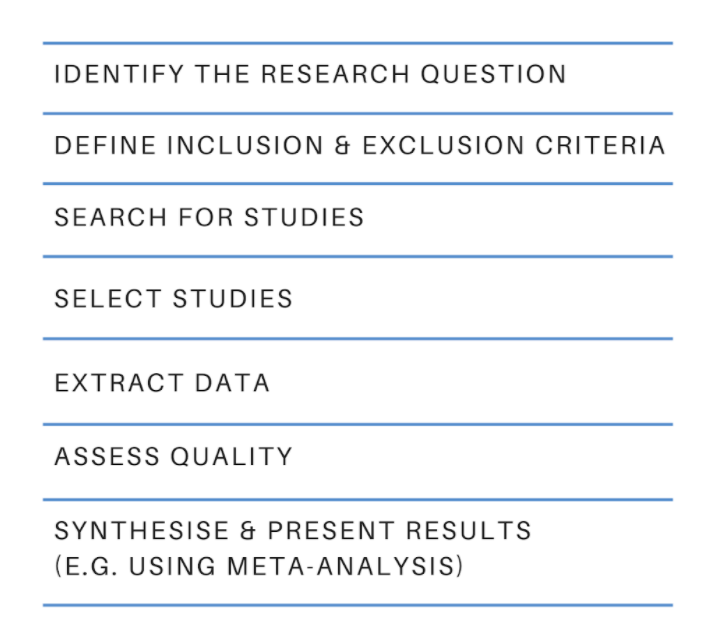 'Systematic' means that the methods used to search for and analyse the data are
transparent, reproducible and defined before searching begins. Systematic reviews strive to be as thorough and rigorous as possible to minimise the bias that would result from cherry-picking studies in a non-systematic way. 
When is it appropriate to do a systematic review?
What guidelines should a systematic review follow?
The PRISMA guidelines set out the items that should be included in the reporting of a systematic review.
How can I get help with my systematic review?
Covidence is an online tool that saves time on the screening, data extraction and quality assessment stages of your systematic review 👍. Its simple workflows enable review teams to collaborate and track their progress easily and reliably. Covidence automatically populates a PRISMA flow diagram for each review. The flow diagram documents the decisions on the inclusion and exclusion of studies and can be added to the results section of the review.
2. What is a scoping review?
Systematic reviews are resource intensive. To find out whether starting work on one is a good idea, some researchers conduct a scoping review first to find out more about the body of evidence in a particular topic area. 
Scoping reviews are exploratory, and they typically address a broad question. Researchers conduct them to assess the extent of the available evidence, to organise it into groups and to highlight gaps. Sometimes scoping reviews are also used to decide whether or not it would be useful to conduct a systematic review 🤔.
The scoping review process is shown in figure 3. Like systematic reviews, scoping reviews define eligibility criteria, search the literature, screen the results and select evidence for inclusion. The data extraction stage, in which the review team creates a descriptive summary of the evidence, is called 'charting' 📊. The JBI Manual for evidence synthesis recommends that scoping reviews extract the following study information:
> Author(s)
> Year of publication
> Origin/country of origin (where the study was published or conducted)
> Aims/purpose
> Study population and sample size (if applicable)
> Methodology/methods
> Intervention type/duration, comparator, outcome measures (if applicable)
> Outcomes and details of these (e.g. how measured) (if applicable)
> Key findings that relate to the scoping review question/s
When is it appropriate to do a scoping review?
If you want to establish the full range of treatments in a particular area of health care or explore the health of a specific population, you could perform a scoping review. A recent scoping review looked at the health of adolescents in detention. The results of a scoping review can give review teams the information they need to be specific when they formulate their systematic review question 🎯. The scoping review might also give an indication of how long it would take to complete the systematic review. 
What guidelines should a scoping review follow?
How can I get help with my scoping review?
Scoping reviews can generate a large volume of citations, which can be a daunting task! Covidence supports review teams to screen citations quickly and efficiently. It can also help teams to set up standardised charting forms and ensure a consistent and rigorous approach to decision making throughout the project 😅.
Interest in systematic reviews and scoping reviews has grown rapidly in recent years. Review methods are evolving constantly as researchers find new ways to meet the challenge of synthesising the evidence. Whether you're planning a systematic review, a scoping review, or both, Covidence can help you and your team keep your project on track. 
Sign up for a free trial today!